Council 14895 Newsletter for April 2023
Please mark your calendar with the activities below and Volunteer!
FIRST AND MOST IMPORTANTLY let us all take the time to say a prayer for our fellow Knights and parishioners that are fighting personal and medical challenges. Seek the intercession of Blessed Fr. Michael J. McGivney.  We should also always remember to give thanks for prayers that are answered!  Among those in need of prayers are Karyn Jacox (wife of John), Nick Jose, Mike Hirsch, Msgr. Schaedel, Nancy Cummins (wife of Ed), Arnie Wagner, Jim Loughery, Tony Grego, Jack Fink, Dick and Eddie Ryan, Frank Loughery, Victor Melchiorre, and Richard Gzibovskis. Be sure to contact Bob Calliotte if you or someone you know needs to be added to the prayer list.
Our beloved Worthy Chaplain, Fr. Jayaraju Bandari will leave on May 1st for a well-deserved vacation back home in India. We wish him a safe and blessed journey and look forward to seeing him again in June. God Bless You Fr. Jayaraju!!
Recent Activities:
We officially have a Meeting Space! The Dedication and Blessing of the Blessed Fr. Michael J. McGivney Room was held Sunday, April 23rd at the 11:30am mass.  The Check for $10,000 was presented by Deputy Grand Knight Frank Short to Msgr. Schaedel and Fr. Jayaraju and the end of mass followed the by blessing of the room itself.  There was a strong turnout of Knights (Thank you!) for this momentous occasion.  Do you want a sneak peek at the proposed room modifications as designed by Molly Evans for us (Thank you Molly!!)?  Come to the next meeting and see it!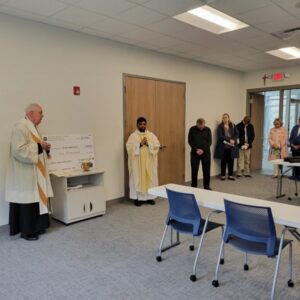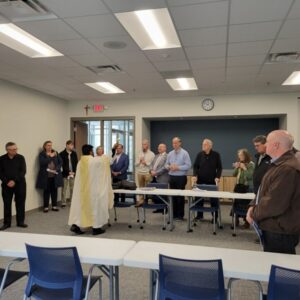 Divine Mercy Sunday was April 16th at 3:00pm. We had several Knights in attendance and joined in the Eucharistic Procession. We had a strong visual presence.  Knights in Action!
The April Knight of the Month was selected to be Chet Kubit for his devoted participation in Knights activities as well as his active participation in the Liturgy and other parish activities. Thank you Chet for being a dedicated Knight!  KNIGHTS IN ACTION!
The April Knight Family of the Month was selected to be Al and Marcia Capuano. Thank you Al and Marcia for all that you do for our Council and our Parish!  KNIGHTS IN ACTION!
Upcoming Activities:
Parish Breakfast. Our next Parish Breakfast is this Sunday, April 30th in the parish cafeteria. There are still some open volunteer assignments, particularly on the second shift. PLEASE volunteer your time to make this important program a success. The online link to volunteer is:  https://www.signupgenius.com/go/10c044baca822a4ff2-stluke1#/
The Baby Bottle Program launches this weekend of April 29-30. This program is part of the ASAP (Aid and Support After Pregnancy) initiative promoted by Supreme and involves a grant of matching funds for monies collected for the Women's Care Center. The program at St. Luke is a joint effort between St. Luke Right to Life and our Council. We intend this to be a family activity, so be sure to pick up a bottle for your family to use and then return by Mother's Day.
DATE CHANGE for our monthly General Business Meeting. Due to the conflict with with the St. Joseph MVP dinner, our meeting is moved from Thursday May 4th to Wednesday, May 3rd. Please make this change on your calendars!
Joseph MVP Dinner is scheduled for Thursday evening, May 4th. Our Council is a sponsor of this dinner. If you plan to attend, be sure you register ahead of time. If you wish to be seated with other Knights, send an email to Bob Calliotte at

[email protected]

. The online signup can be found at the parish website.
 Council Operations:
The Blessed Fr. Michael J. McGivney Room Campaign to raise funds toward the new meeting space named after Blessed Father Michael J. McGivney has reached the final phase. We are tantalizingly close to meeting our goal of raising $20,000. If you haven't already, please consider donating to this cause which will finally give a permanent home to our Council and raise awareness of Blessed Father McGivney and the works of our Knights of Columbus Council.
State Convention: The annual Indiana State Knights of Columbus will host the 2023 convention in downtown Indianapolis the weekend of May 5-7.  Our Council Delegates include Grand Knight Bob Calliotte and Deputy Grand Knight Frank Short. Alternate Delegates include Financial Secretary Dave Fink and Chancellor Joe Cahill.
The Slate of Officers for the 2023-2024 fraternal year is open for nominations. At this time we have at least one candidate for all but one position. We need a candidate to step up and take on the role of Chancellor. Please give it prayerful consideration. Contact Bob Calliotte or Frank Short if you have any questions.
Mark Your Calendar:  Monday, June 5th will be our Councils first Exemplification night using the new online Exemplification tool. This will be the perfect opportunity for existing 1st Degree Knights to get their 2nd and 3rd degrees. It will also be the ideal setting for Associate Knights to become exemplified in 1st, 2nd, and 3rd degrees in a social setting in one short evening. It is also a great way for anyone interested in becoming a Knight to join us! More information will be coming out soon.
Vivat Jesus!
Respectfully Yours,
Bob Calliotte, Grand Knight
St. Luke Council 14895