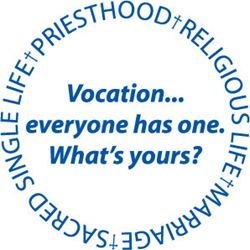 The Race for Vocations, sponsored by the Indiana State Knights of Columbus, welcomes people of all ages to run/walk in the Indianapolis 500 Festival Mini-marathon or 5K to both promote and pray for vocations to the priesthood, religious life, sacred married life and sacred single life. Just sign up for one of the Indianapolis 500 Festival races, then register for the Race for Vocations – you pay normal registration to register for the 500 Festival race, but joining the Race for Vocations is free! You even get a Race for Vocations tech running shirt.
You can add the Race for Vocations training runs to your training plan to prepare for the race. Upcoming training runs include:
Jan 13, 2018 – Brute Seminary (2500 Cold Spring Rd, Indianapolis, IN 46222)
Feb 10, 2018 – Brute Seminary
Mar 10, 2018 – Brute Seminary
Apr 7, 2018 – Brute Seminary
Before the training runs, you can go to Mass at 7:30 a.m. in the seminary chapel, then run with the group or on your own on the canal path.  After your run, join the group to share coffee, juice and snacks and to talk to some of the seminarians and hear some vocation stories.  Join for as much or as little as you like.
On the day before the race, Archbishop Thompson will preside at a Mass to pray for vocations at St. John the Evangelist, right across the street from the Indianapolis Convention Center, where you'll be picking up your 500 Festival race packet. After Mass, there is a pasta dinner. After your race, join the rest of the team at the Race for Vocations tent at the post-race party in Military Park. Learn more about the Race for Vocations and register here.