Dues:
Brothers, annual dues are payable at the beginning of each calendar year.  When you pay your dues on schedule, it makes the job of our financial secretary (who is a volunteer, after all) much easier.  Please pay your dues here.
Make a Donation to the Bocce Fund:
We hope to have completed construction of the St. Luke Bocce Courts before Fall Fest this year.  These courts will host bocce tournaments, providing the council a source of fund raising and community building for years to come.  Past Grand Knight All Capuano has suggested that if each of knight were to donate $20.00 to the cause, we could pay for the materials needed without additional investment from our current funds.  Please follow this link to make a donation.
Donate to buy hats and gloves for children who need them:
In the past we have donated coats for needy children who attend Notre Dame ACE Academy schools in Indianapolis.  This year we are supplementing the coats donated last year with hats and gloves for these children who need to stay warm.  There is a box where you may drop off new hats and gloves for these children located in the hallway, around the corner from the other donation shelving unit.  If, rather than bringing hats and gloves, you would like to make a monetary contribution, you can do that with a credit card. Please follow this link to make a donation.
If you are ready to discuss your insurance and retirement needs, call Glenn Adams or send him an email.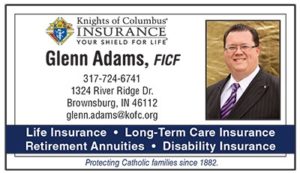 Do you want to know what the Catholic News Service thinks of the movie you are considering seeing.  They provide movie reviews and their own rating system based on the Catholic Church's values.  You can find them here.