Dues:
Brothers, annual dues are payable at the beginning of each calendar year.  When you pay your dues on schedule, it makes the job of our financial secretary (who is a mighty nice guy) easier.  Please pay your dues here.
Make a Donation to the Bocce Fund:
We built the St. Luke Bocce Courts during the Summer of 2019.  These courts will host bocce tournaments, providing the council a source of fund raising and community building for years to come.  Past Grand Knight Al Capuano has suggested that if each of knight were to donate $20.00 to the cause, we could pay for the materials needed without additional investment from our current funds.  Please follow this link to make a donation.
If you are ready to discuss your insurance and retirement needs, call Glenn Adams or send him an email.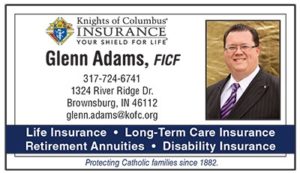 Do you want to know what the Catholic News Service thinks of the movie you are considering seeing.  They provide movie reviews and their own rating system based on the Catholic Church's values.  You can find them here.