October 29, 2018: Under the leadership of Mark Garza and the Gzibovskis family, the knights provided coats for kids at Holy Angels school: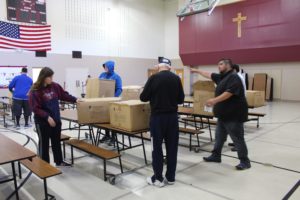 Our newest knight, Fr. Joby has agreed to become the council's new chaplain: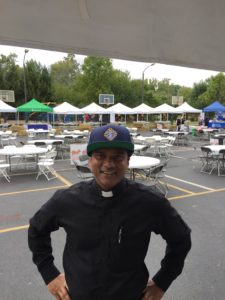 September 22, 2018:  Will Fox coordinated the efforts of the Grilling Knights for the St. Luke Fall Festival.  He takes a break with brother knights Nick Jose and Mike Hirsch: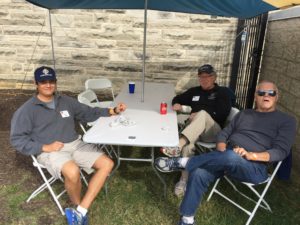 Knight and Grillmaster, Chris Scheer grilled up hot dogs and brats for Mgsr. Schaedel's server appreciation picnic on September 16th: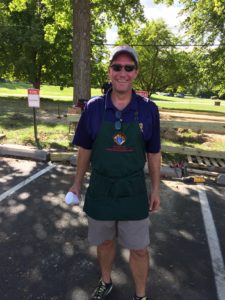 August 29, 2018:  Construction of the long-awaited bocce courts has begun.  Knights John Koke and Gary Gadomski in the early stages of building the perimeter of the St. Luke bocce courts.  Leo Stenz provided a Bobcat and labor to grade the ground: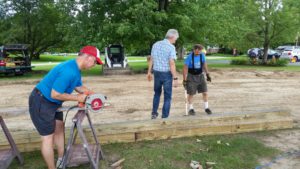 August 26, 2018:  Pancake breakfast to raise money for Coats for Kids: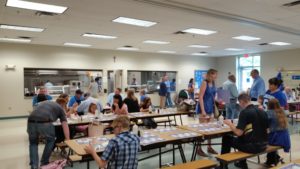 On August 25th, Fourth Degree Knights, Joe Cahill, Bob Roberts and GK Bob Calliotte scored a photo opp with Archbishop Charles Thompson after honor guard duties for the sacrament of Confirmation at St. Luke: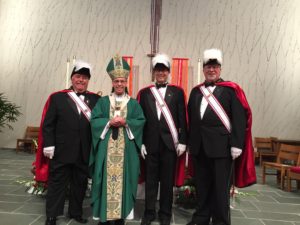 On June 13, 2018, the Knights hosted the St. Luke hot dog night and gave away a nice bike: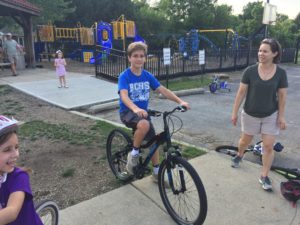 At the general meeting on June 7th, Dick Ryan was recognized for his recruitment efforts by Grand Knight, Al Capuano: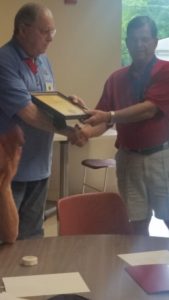 And then Al Capuano was recognized for his dedication and efforts as the council's Grand Knight: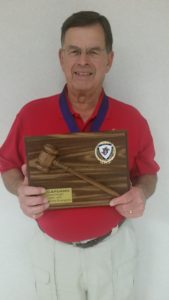 Four St. Luke Knights chaperoned the St. Luke 7th grade boys for the day while they visited St. Meinrad Archabbey on May 30th: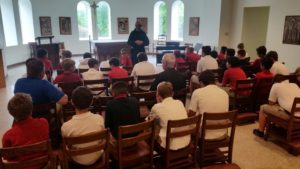 Later in the day on May 20th, the Knights hosted the servers' picnic with Team Mark edging Team Matthew for the traveling trophy: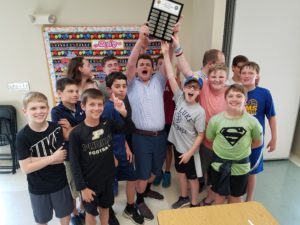 The St. Luke Knights served the SMRE Breakfast on May 20, 2018: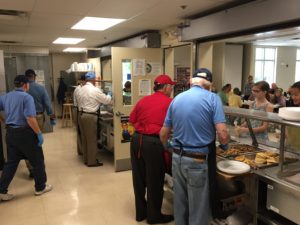 Mark and Xiomara Garza led the way as the knights visited a different Notre Dame ACE Academy each day during the week from May 7 to 11, distributing blue-tooth enabled stuffed animals to excited children: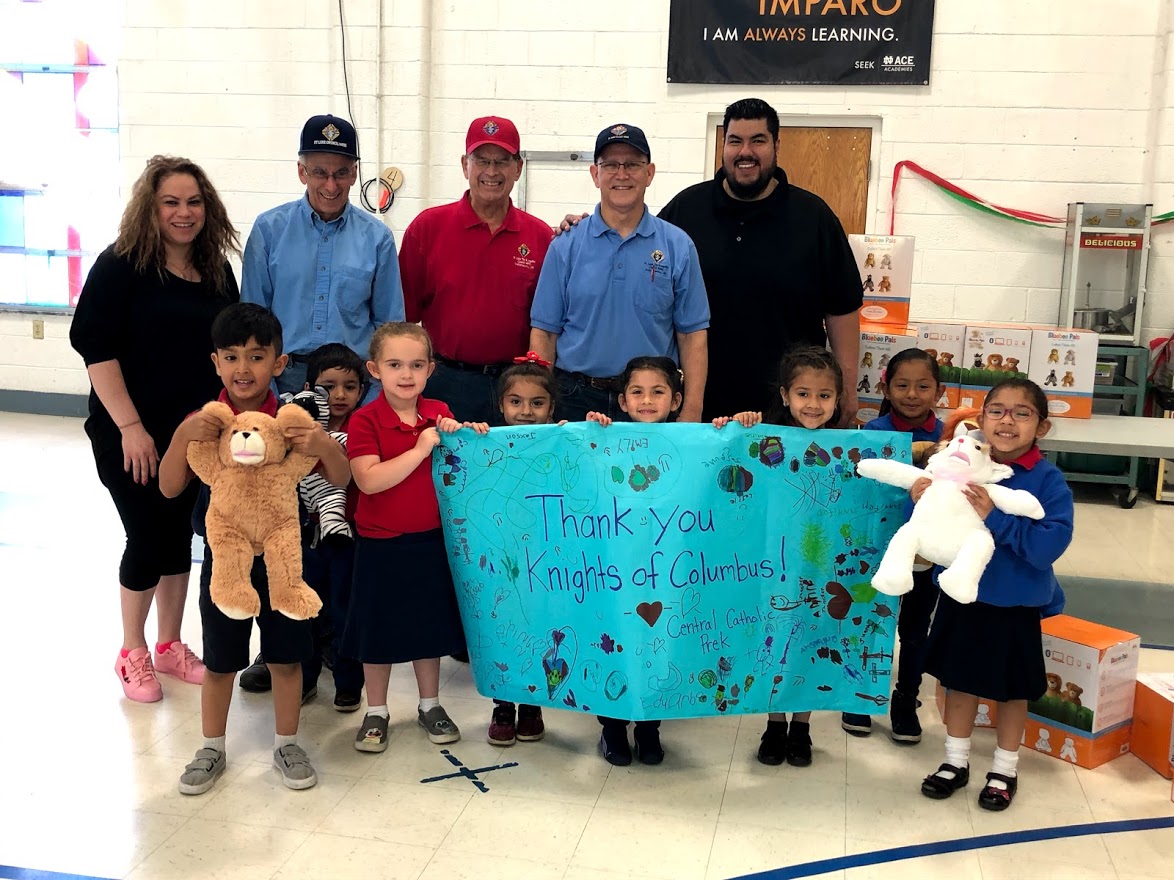 May 3, 2018: The Knights were out in force at the St. Joseph's MVPS Dinner: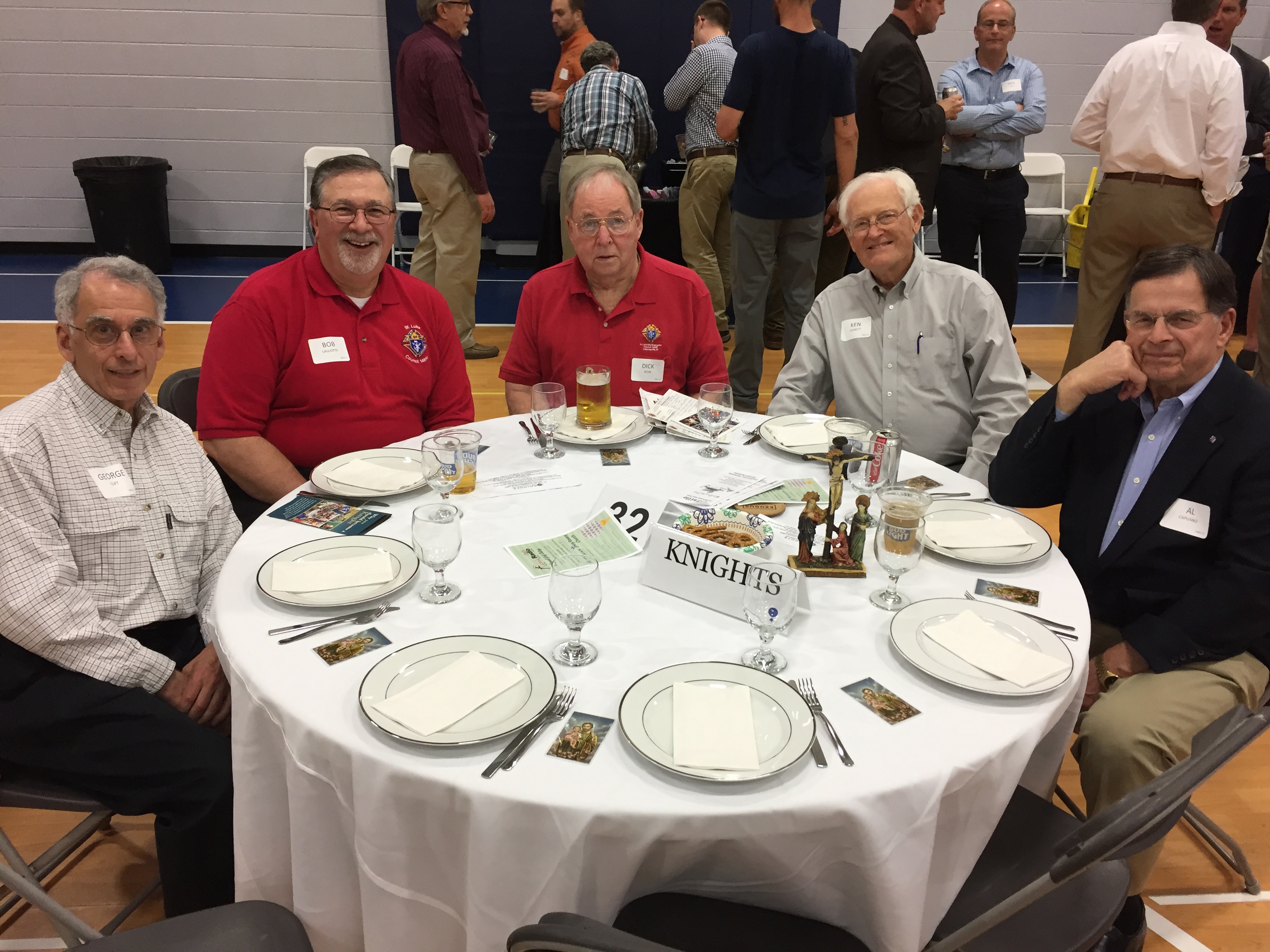 Andy Bauer working the April 22, 2018 pancake breakfast: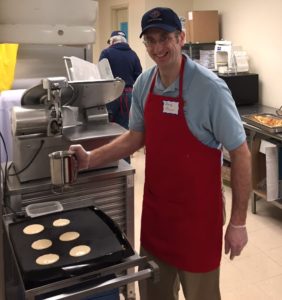 Knights Al Capuano, Andy Bauer and Benjamin Rotz working the Knights fish fry: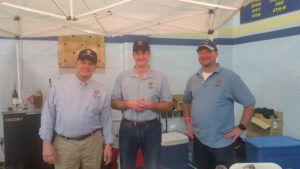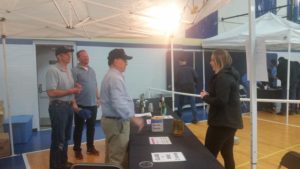 Grand Knight, Al Capuano with January 2018 Knight of the Month, Dave Fink: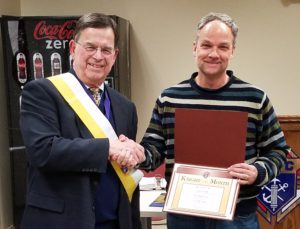 January 4, 2018: Financial Secretary, Ed Cummins and Grand Knight, Al Capuano received recognition from the Indiana State Council of St. Luke Council 14895's inclusion in the 500+% Club.  The award recognizes the St. Luke council's support of seminarians.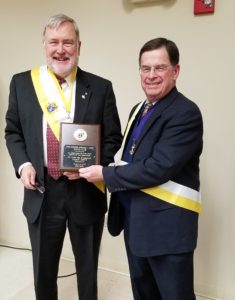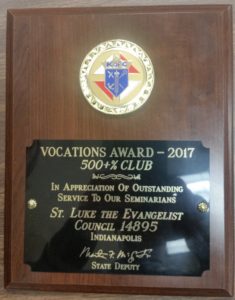 The December 2017 Knight of the Month is Msgr. Joseph Schaedel.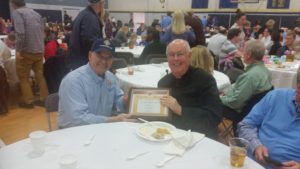 Msgr. Schaedel transferred his membership in the Knights of Columbus to St. Luke Council 14895 and hosted a membership drive event on November 30th at the St. Luke rectory.  A good time was had by all in attendance.
The Knights prepared a pancake breakfast on December 10th.  Proceeds from the breakfast and donations from the diaper drive held at the same time benefit the Women's Care Center, St. Elizabeth|Coleman Pregnancy and Adoption Services, and Holy Family Shelter: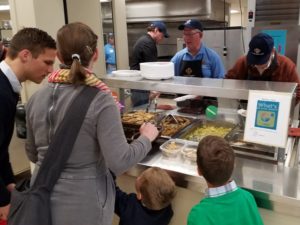 On December 9th, the Knights made breakfast for the Mothers of Young Children's breakfast with St. Nick: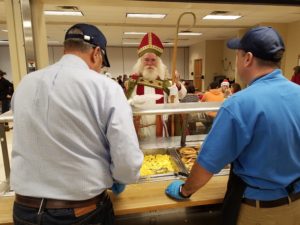 On November 20th, the Knights distributed coats at Holy Cross Central School through our Coats for Kids program: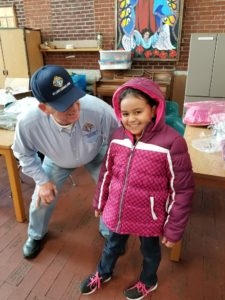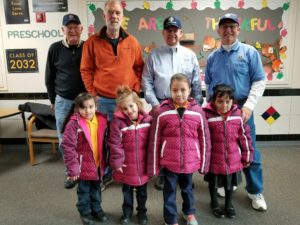 Grand Knight, Al Capuano with November 2017, Knight of the Month, John Koke: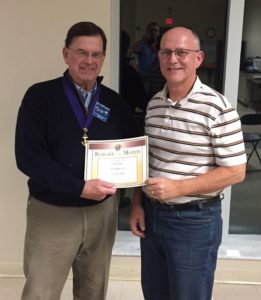 The Knights had an informal dinner night with their wives on November 4th, coordinated by Brother Andy Gzibovskis and his wife, Laura.  A great evening of fellowship and socializing.  Knights chaplain, Fr. Xavier, kept everyone in line: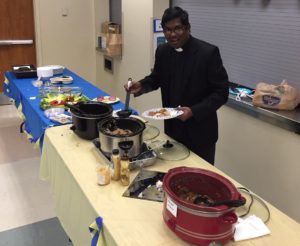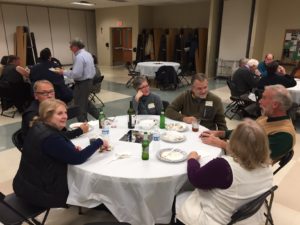 On October 31st, the Knights distributed nearly 50 of coats at Holy Angels School through our Coats for Kids Program.  Brother Mike Hirsch poses with a couple coat models: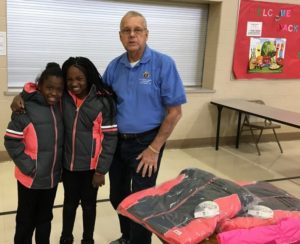 Brother Mark Garza took on the heat of the day and the heat from the grills to anchor the efforts of the Grillin' Knights at the St. Luke Fall Fest: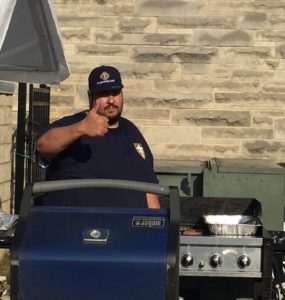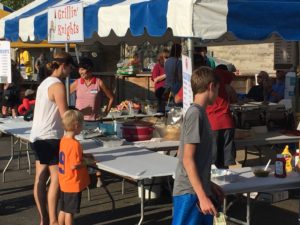 The Knights held their annual bike rodeo, where they check bicycles for safety, air-up tires, clean and oil bike chains and test the safety skills of young cyclists, during the June 7th Hot Dog Night at St. Luke: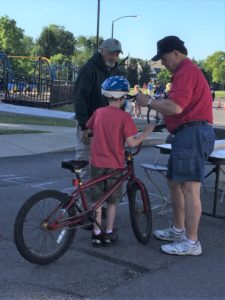 The corn hole competition is tough at the Knights family picnic: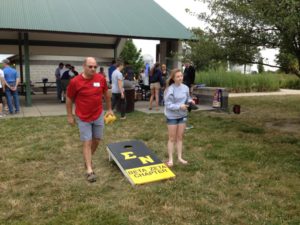 CALENDAR OF EVENTS
Sunday, December 30th - Consecration to the Holy Family
Thursday, January 3rd, 7:00 pm - Council 14895 general meeting
Sunday, January 13th, 8:30 am - Pancake breakfast
Saturday, January 19th, 9:00 am - Free throw contest
Thursday, February 7th, 7:00 pm - Council 14895 general meeting
Thursday, March 7th, 7:00 pm - Council 14895 general meeting
Saturday, March 9th, 8:15 am - Race for Vocations training run at St. Luke
Thursday, April 4th, 7:00 pm - Council 14895 general meeting
Thursday, May 2nd, 7:00 pm - Council 14895 general meeting
Friday & Saturday, May 3rd and 4th - Mass for Vocations/Race for Vocations - participate as a runner, walker or volunteer